I am open for commission folks, and I am in need of things to draw. I have both a DeviantArt and a FurAffinity site where you can view the rest of my work and I have put up a few pieces here for you to see in one nice little post. Seriously, if you like my style, drop me a note via the PM or Email system and I will get back to you and see what we can do!
This is a clip of the whole picture featured in the adult section of FurAffinity.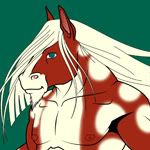 This is Cody Marik, the character I am running in the STAR FURS RP in the Twilight Zone, here on Feila
And this is Kalen, one I made for Duchess little Post Apoc RP here. She is a shifter. Race is (c) Sara King.
And here we have little Kalen in her primary battle form.
http://www.furaffinity.net/user/dometriusking/
http://dometriusking.deviantart.com/
Thanks for having a look, hope to hear from you soon! XD